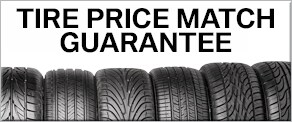 Click one of our stores below to order tires. We can find the right tires for all vehicle makes and models with our Tom Bush Tire Price Match Guarantee!*.
Tom Bush Tire Price Match Guarantee
*If you find a lower price on an identical brand and model number currently available for sale at another local competitor's retail store, Tom Bush will match that price. Just bring in the original advertisement or competitive quote to a Parts Associate at the time of your purchase. The competitor price must be offered on the same date as the date of your purchase. Price match is eligible only on the day you make your purchase. Tom Bush does not sell seconds or blemished tires and will not price match blemished or second tires from a competitor.